CNC Routing Services
CNC routing is the cutting, shaping, drilling, milling, and surfacing of materials using a computer controlled router or milling machine. We invested in this state of the art technology a number of years ago to enable us to provide unique designs for our clients. In addition to helping us design custom furniture to fit into specific nook and crannies, we use CNC routing for other applications such as:
Point of Sale (POS) and Point of Purchase (POP) Display stands
Floor standing display stands
Shop Front designs
Signage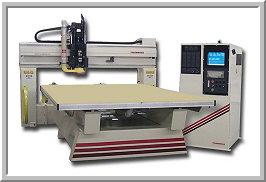 We also offer a turn key CNC cutting service to other designers - You design and We machine cut!
How does this work?
CAD files are a great way to send us your designs. When we load your CAD files onto a PC we are halfway to having the progam written for our routers. E-mailing or sending CAD files enable us to machine direct from your work files, saving time and money. However simple curves, rectangles, etc can be sent across to us by Fax or email.
It's better to get a rough sketch (with hole quantities and hole sizes) to us sooner than a fine drawing later.
Is this service expensive?
No it is very economical. Our routing service charges are based on time, and with over 10 years of CNC routing experience behind us our setup and programing time is second to none, making real savings on short and long runs.
We think you may be surprised - Contact us to find out more.